Citronella Moisturizing Lotion (select desired size)
LOTN005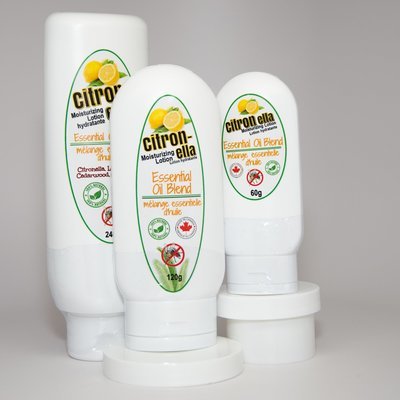 Skin Care
An all natural moisturizing lotion containing a special citrus blend of essential oils and vitamin E. (Cedarwood, Citronella, Eucalyptus and Lemongrass).
The essential oil ingredients of this lotion are well known for keeping mosquitoes away! This combination also creates a wonderful fragrance that feels great on the skin.
Does it keep mosquitoes away? Check out our customer testimonials below. Don't forget to add your rating and review on our Facebook page!
Available in 3 convenient sizes: (60g, 120g, 240g)
Customer Testimonials
We recently purchased your Citronella based on a friend's recommendation. We took it with us on a weekend camping trip. We were blown away by how effective it was. We had some guests show up and they were using DEET and were still getting bites! I want to thank you for this great product! - Leanne
So far I have bought and used the moisturizing citronella lotion, Neem balm and the handcrafted soap.I recommend all products. - Debbie
Your Citronella Lotion has allowed us to reclaim our deck. We are able to enjoy the sunsets once again while lounging outside! We have used everything from Citronella Candles, Deep Woods Off, Off burners, and we still got bites. Your Citronella lotion is the only thing that keeps the nasty buggers away! - Marlene
As a farmer working in the fields I'm a Mosquito magnet. I tried the Citronella Lotion after hearing others at the market raving about it. I was impressed at how well it repels the mosquitos! I never go into the fields without it! - Emilio
Ingredients
aqua, vitis vinifera (grape) seed oil, emulsifying wax NF size, geogard ECT preservative, stearic acid, tocopherol (vitamin E), essential oil blend: cymbopogon flexuosus (lemongrass) oil, cedrus atlantica (cedarwood) oil, eucalyptus globulus (eucalyptus oil), cymbopogon nardus (citronella) oil.
60g / 2oz Bottle Size (-4)
120g / 4oz Bottle Size (0)